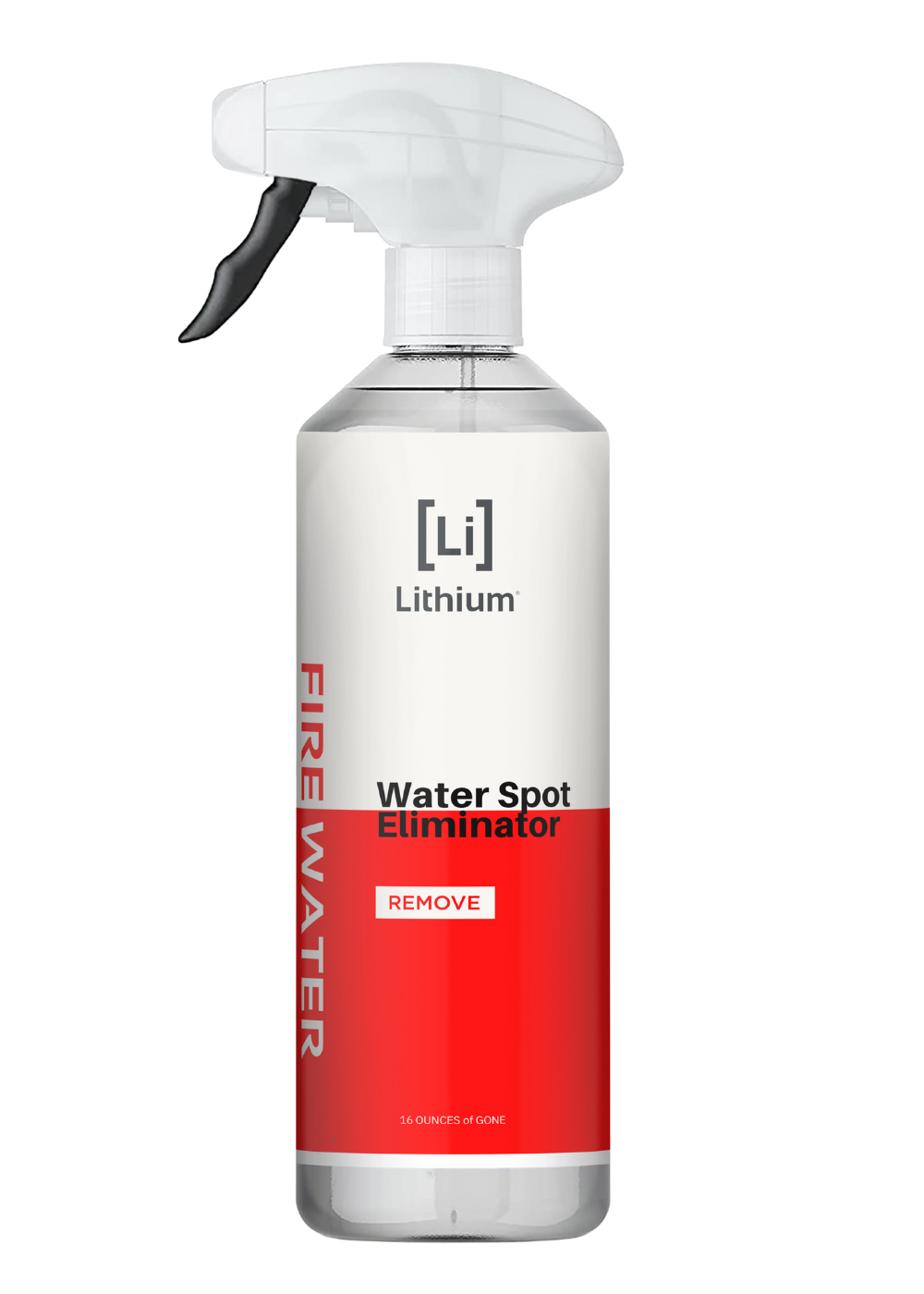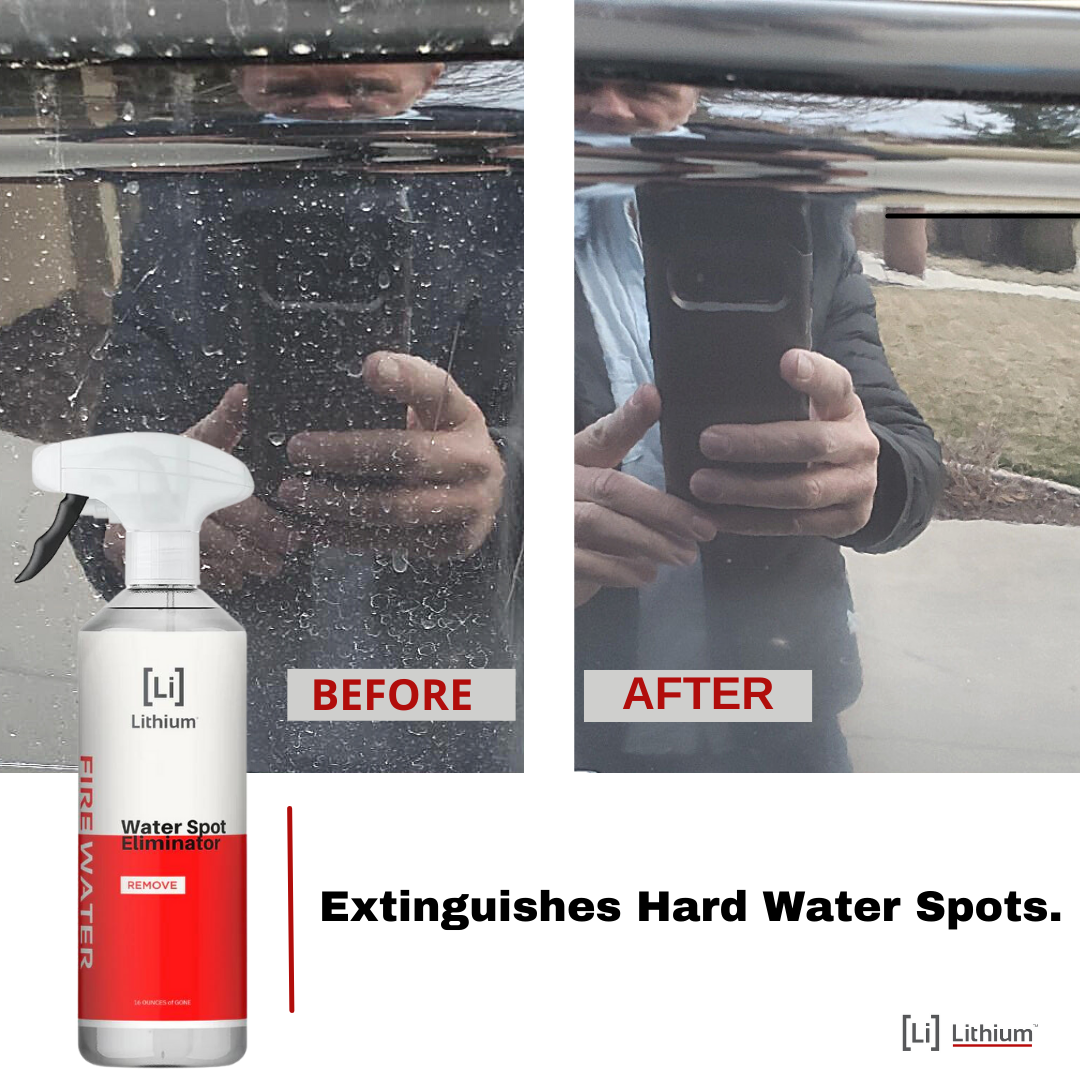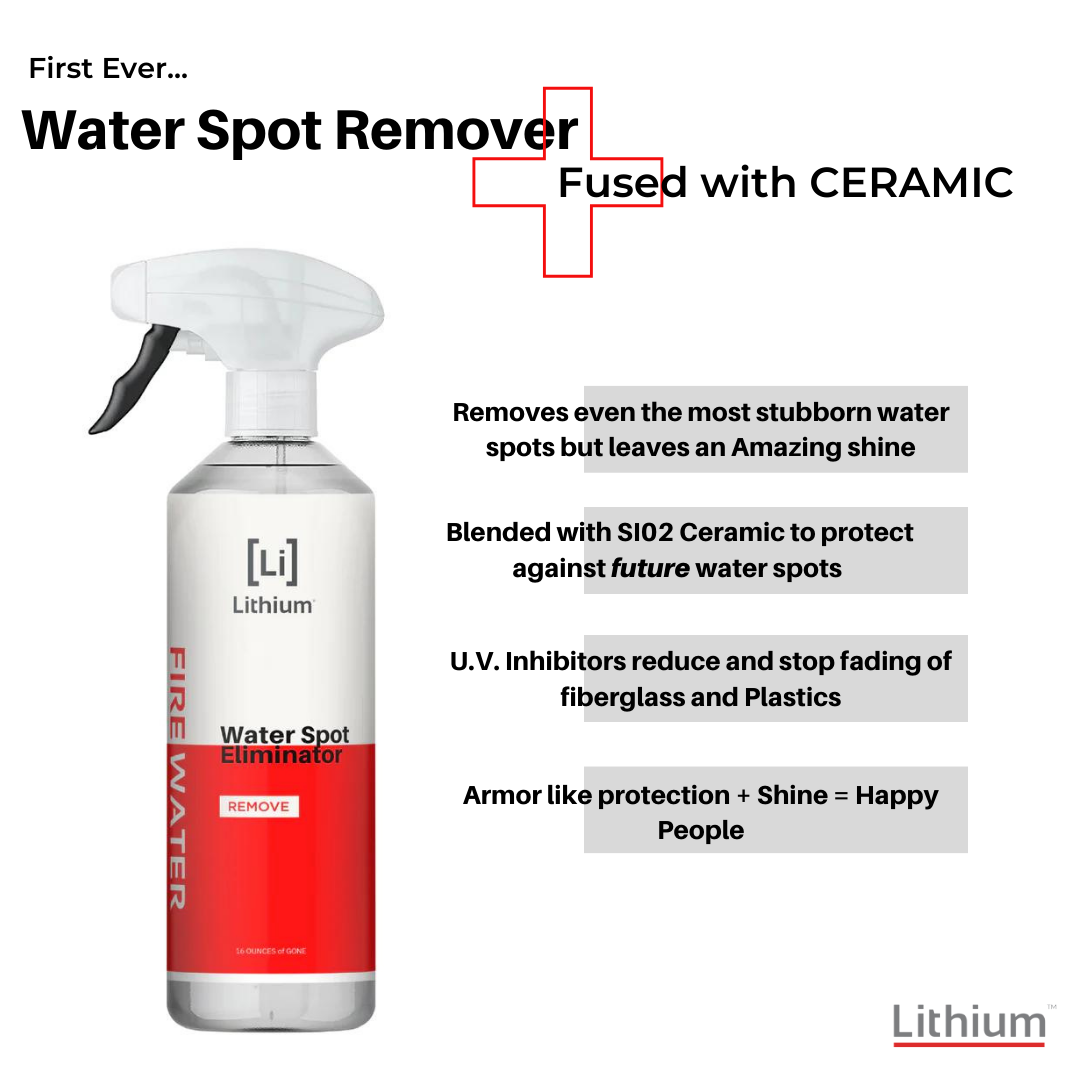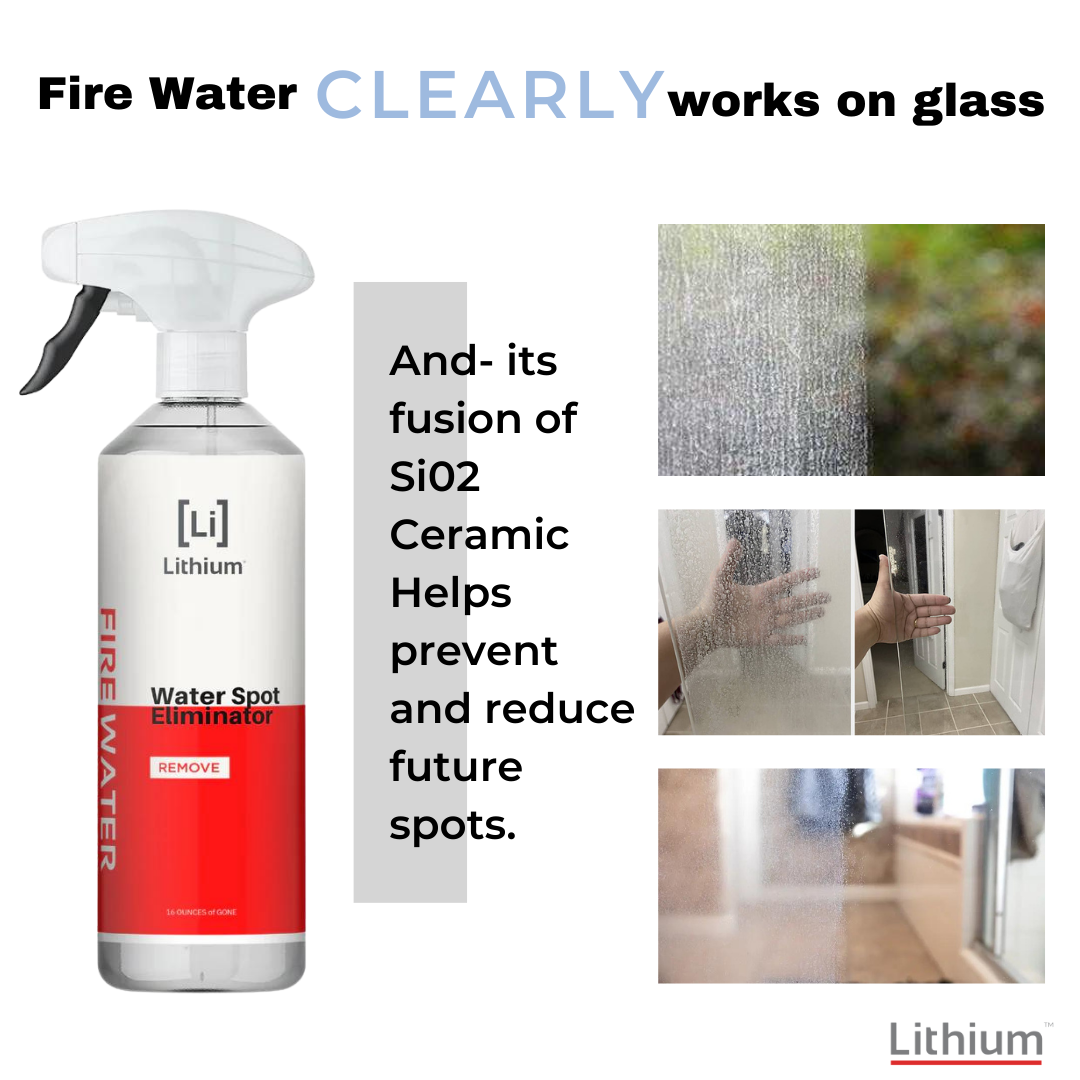 Lithium Fire Water Spot Remover- Infused SI02 Ceramic Water Spot Remover, Hydrophobic, Long Lasting Protection
Yes, there are plenty of hard water spot removers on the market. Some work decently and others - not so much. The problem with these products is: The ingredients these products use to remove calcium and other minerals, leaves paint surfaces looking Dull and Hazy. Fire Water is unique, in the fact that it removes even the most stubborn water spots. However, as it is wiped off the surface - the infused Si02 and paint conditioners leave behind an incredibly slick and Hydrophobic shine, which actually helps prevent future hard water from etching into paint.Hard water is a terribly destructive element, left behind from sprinklers, Acid rain, and a multitude of other sources. If left on the surface of paint for too long, hard water will etch its way into the surface and cause permanent damage. Fire Water will dissolve and remove the deposits left by hard water, leaving an incredible shine.
CLEAN AND PROTECT IN ONE STEP! - a SiO2 Ceramic Sealant leaving your paint or glass glossy and spot-free.

EFFICIENT, EFFECTIVE AND SMELLS SO GOOD! - At Lithium, we set out to create something better! No more horrible smelling, vinegar-based cleaners or buckets of five products to get one job done!

EASY TO USE - Easy spray-on, wipe off. Also works great on trailers! - Use on a wet or dry paint and glass! -- Safe on all finishes, including gel coat, chrome, glass, vinyl, and plastics.

SMELLS GREAT! - Green Apple Aroma makes wiping down a pleasant experience.

Powerful cleaner: Fire Water is made using a safe formula that Removes mineral deposits and hard water spots easily.
Free shipping over $75! All in-stock products ship within 24 hours and have an expected delivery of 3-4 business days for the continental US.
If you're not 100% Satisfied with your product please reach out and we will assist with a return or a solution to make it right.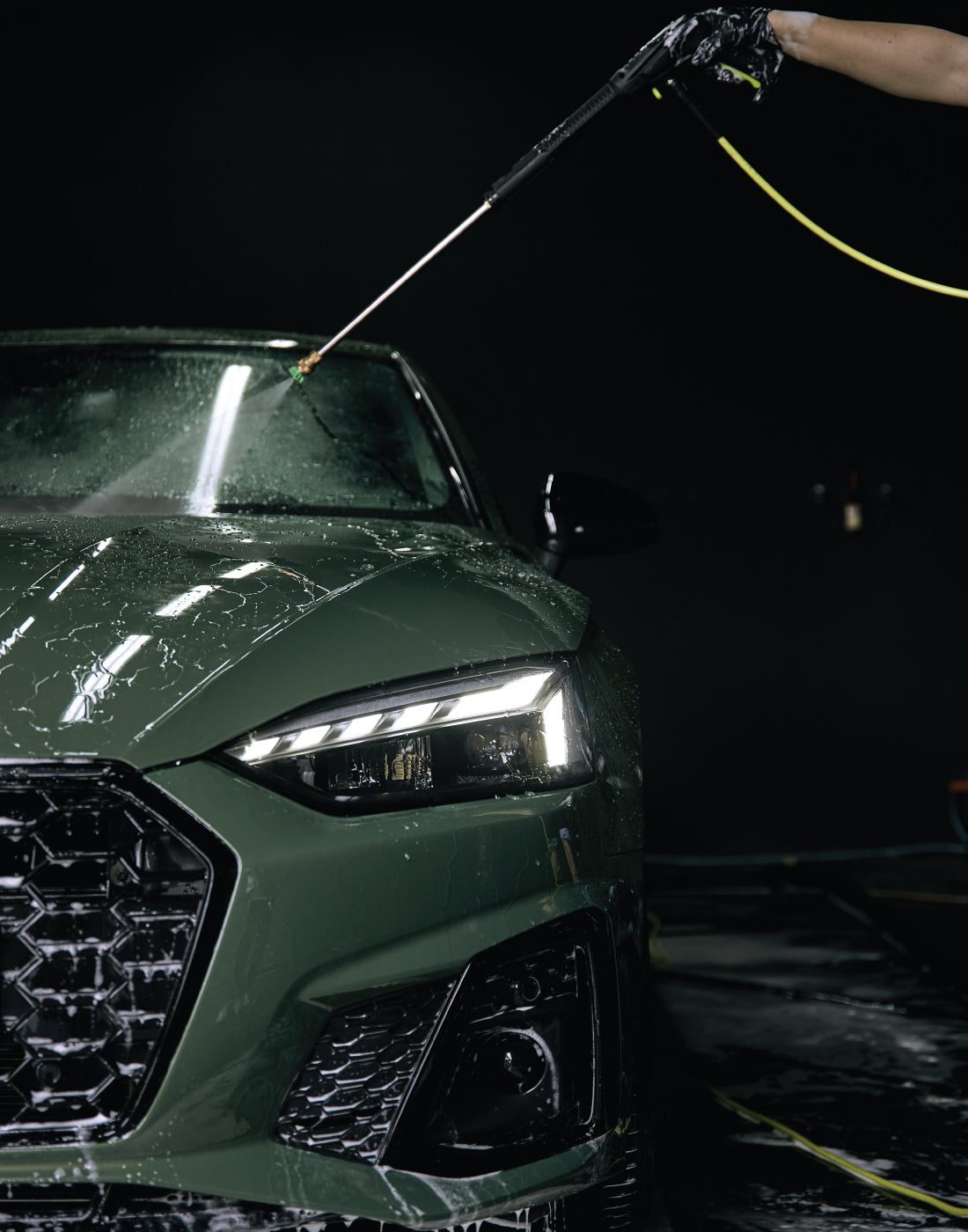 Our Philosophy
At Lithium we never look at the cost of an ingredient or scrutinize if something can be made cheaper. Our focus has always been on quality results and keeping surfaces healthy.
We 100% stand behind everything we sell. If you're not fully satisfied we will make it right.
It depends on your location. Orders placed with in stock will normally be shipped within 48 hours. You will receive an emailed shipping notification along with your tracking number. All orders are sent priority mail. Normally 1-3 business day service depending on your region.
We are happy to help you via email or in person with one of our detailing experts. Please call 801-750-9997 or email info@lithiumautocare.com or on our live web chat.