What's in the Box?
Ceramic Slam 
FINALLY THE ULTIMATE DIY CERAMIC COATING - If you're like us, you love your car- and making it insanely beautiful is almost as fun as driving it. Ceramic Slam lets you take things to the next level in protection and shine.

FAST, EASY AND MISTAKE PROOF- Spray it on, Buff it off and let it cure, it's that easy. Once cured, you can repeat the same process as many times as you like- it will stack nicely and add more depth and protection.

ULTRA HIGH GLOSS AND SUPER HYDROPHOBIC- Ceramic Slam repels water like no other and reduces dust while protecting your finish from bird doo-doo, road salt, and other contaminants. 
Fore Clay and Luster Lube
FORE CLAY IS A NATURAL FORMULATION AND PROVIDES MORE ADHESION THAN SYNTHETIC CLAY. It is unmatched when it comes to removing nasty contaminants, overspray, Iron, brake dust, and other pollutants. Fore Clay will quickly and efficiently bring back paint to factory smooth.

FORE CLAY CLAY BARS INCLUDE A BOTTLE OF LUSTER LUBE the finest lubricant ever formulated for Clay. As a matter of fact, many customers have found that it is also The best stand-alone spray detailer ever mixed as well. It has incredible Hydrophobic properties and the 2-foot thick shine it leaves behind, is totally re-writing the future of Spray and Clay.

Luster Lube gently CLEANS AND BOOSTS SHINE WHILE PROTECTING YOUR PAINT FROM UV RAYS. Luster Lube is produced with the HIGHEST QUALITY INGREDIENTS to keep your ride looking fresh.
Double Tap Soap
REGULAR SOAPS DRY OUT SURFACES AND ARE NOT SUITABLE FOR YOUR PAINT Lithium Double Tap is a UNIQUE MIXTURE of cleaning agents, mixed with ESSENTIAL OILS AND EUCALYPTUS. The oils LUBRICATE and HYDRATE the surface while the Eucalyptus helps to "Hyper- Clean" your paint even at a neutral PH level.

GREAT FOR NEWER PAINTS AND OLDER SINGLE-STAGE PAINTS ALIKE. Leaves a PHENOMENAL LUSTER AND SHINE, which is unmatched by any other cleaning soaps. The PH NEUTRAL FORMULA is excellent for ceramic-coated cars. Leaves them SPOTLESSLY CLEAN, WITH ENHANCED SHINE.
AND OF COURSE, A FEW MICROFIBERS TO HELP WITH THAT EXTRA CLEAN FEELING
Free shipping over $75! All in-stock products ship within 24 hours and have an expected delivery of 3-4 business days for the continental US.
If you're not 100% Satisfied with your product please reach out and we will assist with a return or a solution to make it right.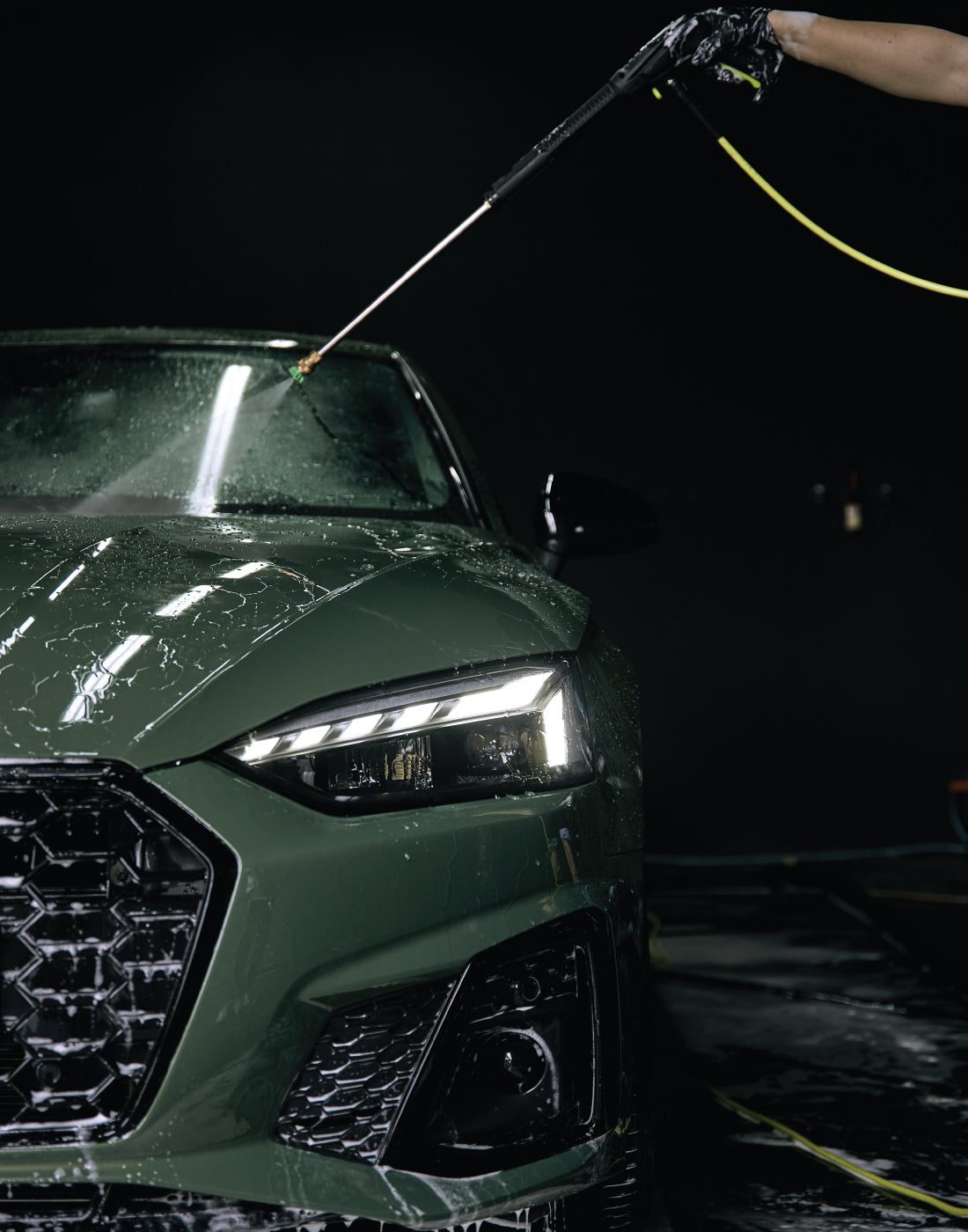 Our Philosophy
At Lithium we never look at the cost of an ingredient or scrutinize if something can be made cheaper. Our focus has always been on quality results and keeping surfaces healthy.
We 100% stand behind everything we sell. If you're not fully satisfied we will make it right.
It depends on your location. Orders placed with in stock will normally be shipped within 48 hours. You will receive an emailed shipping notification along with your tracking number. All orders are sent priority mail. Normally 1-3 business day service depending on your region.
We are happy to help you via email or in person with one of our detailing experts. Please call 801-750-9997 or email info@lithiumautocare.com or on our live web chat.